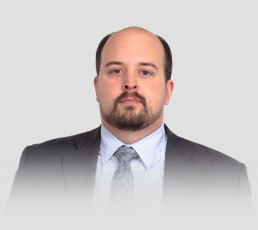 Nicholas Leydorf
Associate Attorney
Dependable Results for Clients
For more than five years, Nicholas Leydorf has proven to be an asset to the criminal defense team at Grabel & Associates, bringing consistent, reliable results to clients accused of drunk driving and other criminal offenses. Mr. Leydorf is highly skilled in determining the most effective strategies for obtaining positive results for clients, and has represented individuals in more than fifty counties across Michigan. Knowing that each and every case is unique, Mr. Leydorf takes the facts of each charge and/or case and closely analyzes these facts in order to determine the most effective legal strategy. An aggressive and capable criminal defense lawyer, Mr. Leydorf works vigorously to obtain the desired results of the client. At Grabel & Associates, our entire staff understands how stressful and frightening it can be when facing criminal charges. We put our extensive experience, skill, and knowledge of the criminal justice system to work for every client our firm represents.
Aggressive Defense of Your Rights
Highly experienced in high profile cases, Nicholas Leydorf gives every client's case the personal attention and dedicated approach necessary to achieve good results. He understands that for you, your case is the only one that matters; you can rely on the full support and legal guidance you deserve, with intense focus being placed on protecting your legal rights and freedom. Whether charged with a misdemeanor or felony, Mr. Leydorf provides exceptional legal representation in matters involving DUI, probation violation, drug offenses, criminal sexual conduct, and more.
Graduating in 2002 after attending Michigan State University on a scholarship, Mr. Leydorf was passionate about law; this interest led him to attend the law school of the University of Miami. Mr. Leydorf later transferred to The Catholic University of America: Columbus School of Law where he graduated in 2005 with high honors. Residing in the Lansing area, Mr. Leydorf is involved in the community and previously served as a Board member of the East Lansing Rotary Club.
Professional Associations and Memberships